"Stillwaters" was a nickname for Paul's father and Beatriz's step-father: William Henry Gleadell. This chapter is Paul's biography of his father.
William Henry was barely 24 when his father so unexpectedly died and he found himself suddenly propelled into family responsibilities. Eleanor, his eldest sister, had been married two months previously to Francis Johnston who was working in Liverpool in his family's successful coastal shipping business of Robert Gilchrist & Co. But there were still three younger sisters living at home and his brother was only eleven.

Willie had been educated at Liverpool college where he achieved satisfactory academic results, played a reasonable game of rugby football and indulged in a fair amount of mischief with Richard Le Gallienne, who later became a writer of some note.

At 17 he had written to ninety prominent political, legal, theatre, Service and Church personalities – including W.E. Gladstone, Lord Randolph Churchill, the President of the USA, Henry Irving and Ellen Terry – to request their autographs. He received eighty-eight replies which he carefully filed in a small album.

Soon after leaving school he contracted an illness for which the doctors revommended a long sea voyage. So his father arranged a voyage for him in the White Star Line sailing ship, "Houghton Tower" to San Francisco and back, which involved rounding the Horn each way.

He shipped as one of five apprentices, including one called Shackleton; all five swore they would never go to sea again. Many years later my father took me, while passing through New York, to hear a lecture by Sir Ernest Shackleton on his polar explorations and it was a thrill for me to go back stage and meet the great man. During the voyage my father wrote an essay on the controversial subject, even then, of the future of the House of Lords and his reasoning for its retention would bear examination even today.

As a very young man, Willie developed a great interest in political matters, especially foreign affairs. With the help of a friend, Ross-Brown, he started a small debating society in Liverpool. Among those who attended were two law students called Smith and Greer. One evening Greer arrived very depressed with prospects in England and announced he was intending to apply for a post in the Straits Settlements in Malaya. The others tried to dissuade him and Smith said, "Look, when I am Lord Chancellor, the first Chief Justice I shall appoint will be you". This caused merriment; but in due course F.E. Smith, as Lord Birkenhead, became Lord Chancellor and Sir Arthur Greer was an early appointment that he made.

Willie had been articled as a junior clerk in the Head Office of the Royal Insurance Co. in Liverpool. The salary was a modest one and when his father died he contributed the greater part of it to the family budget. He decided to take evening classes to study French which he mastered but spoke with an appalling accent. One day there was an important Board meeting attended by the French agents of the Royal. But they had little English and the Board no French, so the Secretary was sent post-haste to find a French speaker in the office. It was the lunch hour and there was no one about – except for "that young Mr. Gleadell", eating his sandwiches at his desk. Unabashed, Willie attended the meeting and unleashed his deplorable French accent on the delegates with the result that, next day, he was sent for by the General Manager, promoted and posted forthwith to the Paris office of the Royal.

Paris was all it promised to the young man and Willie wrote home frequently and fulsomely. Races at Longchamps, receptions in the sâlons of the great, the Opéra and the bal masqué, which he described in fascinated if restrained detail. But there was unease back at Manor Lodge where his letters were being carefully scrutinised. What was Willie up to? Anyway, his Mother duly wrote to say it would be a good thing if Ellie came out to stay with him awhile. The change would do her so much good. Now this did not suit Willie's book at all and he guessed that Ellie, least of all, was in no need of change. He loved her dearly and she was very pretty but she was the eldest, and had never been backward in offering guidelines for his conduct. So, with tact, Willie replied that he did not think that Ellie would benefit by a visit and suggested that Maggie might come instead. I have no record of how this matter was resolved.
War with Germany broke out in August 1914 and an early sadness for my parents was to learn that Admiral Craddock and all but one of his officers had been lost when their old cruiser, HMS "Good Hope", was sunk at the battle of Coronel by the modern battle-cruisers Scharnhorst and Geneisenau.

My father was anxious to follow us home and enlist. This he achieved and, early in 1915, he reported at the War Office to offer his services. But he was told he was too old to go to the Front. After making enquiries he decided to try again at an office two floors down and conveniently dropped several years in age in the process. In consequence, he found himself commissioned in the Army Service Corps and posted to HQ Vth Army at Ameins as Resquisitions Officer; he had been able to convince the recruiting authoirites that he was a proficient French speaker. Requisitioning in the battle zone was an exacting task but his endeavours were recognised and he was awarded the French decoration of "L'etoile Noire." Another duty my father was to perform was to be a Conducting Officer to guide some of the statesmen and senior soldiers visiting the Front. Among these there came Lloyd George, the Prime Minister; Winston Churchill when he was a Government Minister, and Maréchal Foch, lately appointed the Supreme Commander of the Allied Forces in France. My father described some of these occasions. Mr. Churchill was by no means universally popular with the Army then, and he recalled their visit to an Officer's Club when, on their arrival, most of those present got up and walked out. How very different from circumstances that were to obtain in World War II. During a visit by the PM, senior commanders were at pains to explain the very critical state of the ammunition supply, already severely rationed, and the PM undertook to stress this point in the House of Commons next day. On reading his speech there was bitter disappointment that there was no mention of the seriousness of the situation. Foch, it appears, was a very devout man and the tour programme had to allow for him to hear Mass most days before setting off.

My father took an affectionate interest in his nephews and nieces, and when he learnt that young Phil Johnston, aged 18, had just undergone his first baptism of fire on the Western Front, it was typical that he should hasten over to visit him and take him back for a meal. Phil always remembered the lift to his morale on his uncle's unexpected arrival.

Unfortunately, my father fell a victim to the last German attack in which mustard gas was used, and he was evacuated to recover at Watermouth Castle, a wartime hospital in North Devon. It was from here that my parents went in search of a house, as Manor Lodge had become the centre of a massive urban development and the West Country offered many advantages for a home on retirement. They narrowed the choice to a house near Weymouth, and "Commons" near Bideford, which was being sold by Wilson-Hoare, Master of the Stevenstone Foxhounds. The choice fell on "Commons", a large house standing in some twelve acres overlooking the estuaries of the Taw and Torridge and away to Lunday Isl. There was a lodge with a double garage and good stabling for four horses. I have sometimes pondered that, had it been Weymouth, I should not have met my wife so that our children and grandchildren would, if they were existing today at all, be circulating in a wholly different form!.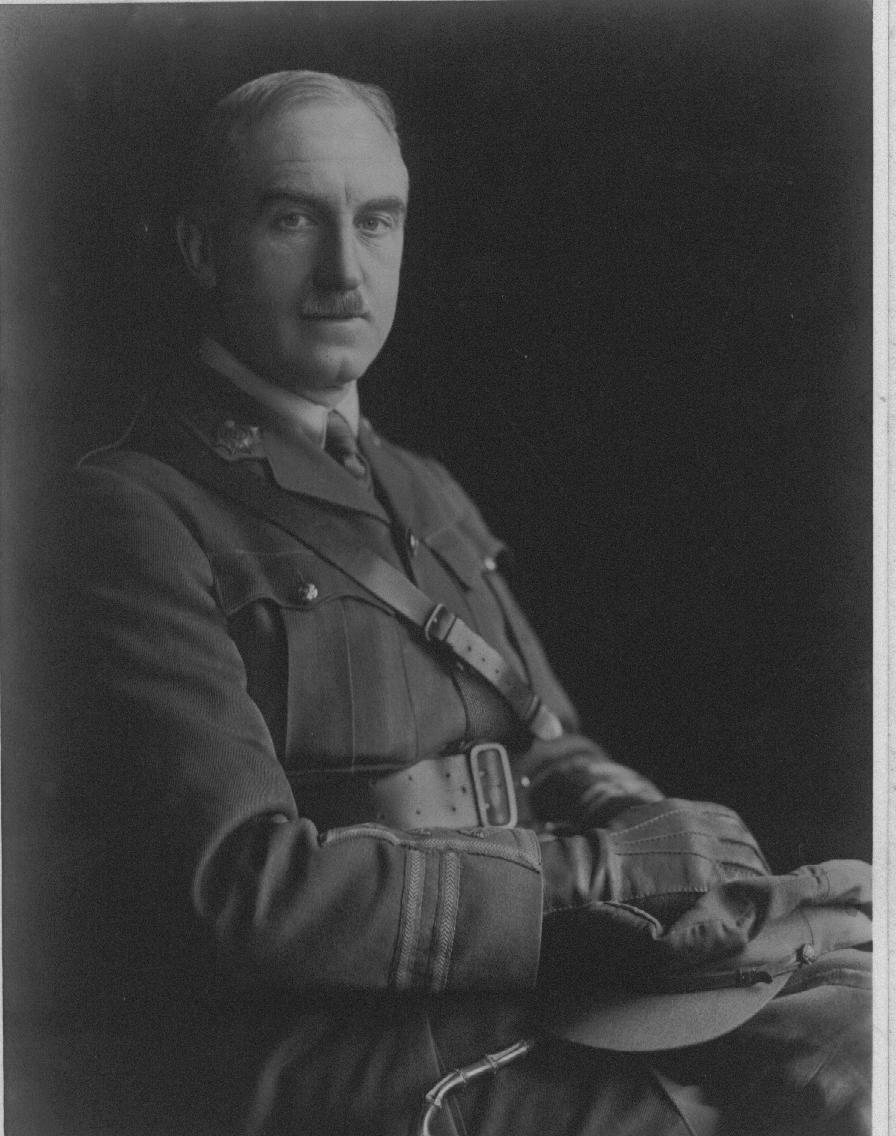 Captain Wiliam Henry Gleadell, 1918
One regrettable effect on a victim of exposure to the wartime gas was that he would become exceedingly intolerant and critical of some person, or persons, very close to him. In my father's case it befell me and his younger sister, Isabel, to be the recipients of his displeasures. At the end of the war my half-sister and I accompanied my parents to Mexico. We sailed from Liverpool in the "Celtic" in late December 1919 and spent Christmas at sea. The weather was atrocious and the seas exceedingly angry. I shared a small cabin with my father and he was determined that, notwithstanding my own impressions, I was just not seasick. For Christmas dinner, dutifully bathed and changed into my best suit and clean collar, I was led into the festively decorated Dining Saloon to find that Father and I (and a rather plausible gent to whom he had taken an intense dislike) were the only passengers present. It was rather a strained dinner. The plausible gent wore a paper hat, which made my father dislike him the more and, being below, the smell of food nearly proved my gastronomic undoing.
"Stillwaters", as Father was called by his brothers-in-law, was a strict disciplinarian; he himself was always exact and meticulous. But he never spanked me. Swearing and blasphemous invocation of the deity were totally alien to him, and he regarded these forms of speech as means by which the inarticulate tried to give themselves the impression of eloquence. His admonitions would often rile me, but looking back as a father and grandfather myself, I can see the relevance of many of his words. "A place for everythng" he would say "and everything in its place". Oh yes! He held that a fair indication of a person's characteristics was how he would leave a newspaper after reading it. I have found that he was not far off the mark. He could make a terse remark, not without humor. On the morning the telegram arrived from Cambridge that Beatriz had not only achieved a Double First, but in two years, there unhappily arrived my school report with disclosed that I was bottom but one of my class. After an interval for nausea my father, who had steel blue eyes, just said "And what was that other fellow like?".
Stillwaters kept his clothes jealously and tidily in his wardrobes or trunks, protected by camphor balls, to a great age. They would, he averred, come back into fashion one day. Indeed, I eventually wore one of his suits, still scented of camphor.
My Father decided that he would retire at 60, in 1925, and he was looking forward keenly to settling down at "Commons" with my mother. His interest in political affairs had never waned and he had been approached to stand for the North Devon constituency at a future election. His politics can best be described, in current terminology, as Left of Centre Conservative, with a strong and critical Independent flavour. It was embarrassing sometimes to accompany him to public meetings when he was liable to question the speaker in disarmingly forthright terms. He was very critical of Prime Minister Baldwin, whom he dubbed "Mr. Safety First" and he wrote to him calling him to account for neglect of our defences in order to win votes, taking as his text.. "The strong man armed keepeth his house..." But he predicted a bright future for a young man in the Lords called Lord Dunglass, who eventually, as Sr Alec Douglas-Home, became Prime Minister. "Stillwaters" would surely have been a pain in the neck to any Front Bench.
But all this was not to be. My mother's health was not good and she disliked being an absentee landlord of the estates in Yucatán. Moreover, Beatriz was to be married in September 1925, to Ben Muse who was then in the U.S. Diplomatic Service, and she would be unable to administer the plantations. So, my father decided to go out again to Mexico himself at the end of 1924, and to arrange for the disposal of all the property, although he of course would have no interest in the results. My mother and Beatriz would go out in the following autumn to complete the formalities. It meant that he would miss the wedding (which pained him as he was devoted to his step-daughter) and be unavilable to nurse a constituency for an election.
His must have been an awesome undertaking: to organize the sale, against a falling market, of substantial properties which, never the less, still retained their histoic grandeur, was a challenge indeed. Also, Mérida's land-owning society was very much a clannish affair and a closed shop. There were then practically no foreign residents, just one other Englishman (Cameron), the Hon. Vice-Consul who ran the electricity company, together with the odd American and European. My mother was held in great affection by the clans in Mérida and almost idolized by the servants and the workers on the haciendas. But whereas she was "Tia Katie" or "La niña" to them, my father was 'Gleadell'. While they treated him with great respect and full Yucatecan courtesy, the feeling was there that he it was who had come to sever my mother's links with an inherited homeland. Moreover, my father, a businessman with meticulous standards of efficiency, found the "mañana" attitude of conducting affairs left much to be desired. Changes in procedures and personnel were necessary, he thought, and these could not have been popular in certain quarters. I was told that he had counseled some haciendados that they would be well advised to anticipate the sequestering of plantations by the Government, by forming a sort of co-operative in which the workers would be brought more into the running of the estates. With timely action, he had said, it would be possible to do this from a position of strength on favourable terms rather than have it imposed arbitrarily in an adverse situation. This suggestion had proved unpopular to a patriarchal community that had been well-entrenched for so long. In any case, it was argued, the "Indios" would be neither willing nor competent to undertake such an arrangement.
All in all, it was a difficult and lonely year for "Stillwarers"; by sea it took a letter some three weeks to reach England. However, negotiations were at last completed; the haciendas Uayalceh (Land of the Running Deer) and neighboring Sotuta to be sold to Don Augusto Peón, the octogenarian doyen of haciendados, and "La Quinta", the country villa, to Don Avelino Montes, reportedly the richest man in Yucatán. I was told that shortly before contracts were signed, my father was approached about a better offer for the haciendas, but he and my mother had already given their word so, for them, that was that.
Completion was to take place about March 1926. Accordingly, early in the previous October, my mother and Beatriz were duly booked to sail to Yucatán via New York in the 'Baltic'. At the last minute my mother arranged with the Headmaster of Downside School, the Olympian Father Trafford, for me to have six months sabbatical leave of absence and so – accompanied by 'Blighty', my mother's Aberdeen terrier – I joined them for the journey.
We arrived on 25th October at the anchorage off the shallow waters of Progresso in Yucatán. My father, in jubilant mood, took my mother in an early train for the one hour journey to Mérida, while Beatriz and I followed later with the baggage. My mother was tired and emotionally moved by her reception, including that from the Maya Indians from Ualyalceh who had walked the forty odd miles to Mérida to "saludar la niña" (greet the young lady). At Mérida station she insisted on first visiting an aged de Regil aunt, Tia Felipa, before being driven out to La Quinta. All this was too much for her, and that night she died of a heart attack. She was 56.
To Beatriz and I the blow was naturally immense, but she had her married life to which to look forward and I was young with my life ahead. For my father, after the long months of waiting, all his expectations, hopes and plans vanished in an instant. In his grief he had first to arrange for the funeral in a situation where persecution of the Church was prevalent, and cables to the family in England. And then he had to plan how he and I were going to live. It was for him a harrowing six months.
He and I sailed back to England in April 1926, in the "Celtic" from new York; Beatriz and Blighty in the 'Berengaria' to Paris to rejoin Ben Muse, from whom she had been parted for six months, at the American Embassy. I of course returned to school, but he was left to his solitude at "Commons". For a while life was managable as my charming and gregarious cousin, Averil Johnston, came to keep house for us – efficiently if expensively. He loved Averil with her joyful nature but, as he said "Averil found she could not manage me or my establishment". In the main, he was deeply concerned as to how, in the longer term, he was going to provide a home for me.
And so it was that, one year later, after what for him must have involved traumatic deliberations, he married Kitty Masters at St. Martin's Church, Trafalgar Square. My Father's morale received a great filip by the unannounced arrival, from the USA, of Beatriz, who said to him "I bring you my Mother's blessing". Kitty was 36 and well known to the family and liked by them, as she had been Secretary for many years to my late uncle, Willie Guild, a Director of Mather & Platt in London. After some early reservations – even resentments (which was understandable) - I grew to like Kitty immensely and we became good friends. The world, I had found, was divided in two: those who laughed at my jokes and those who didn't. The former of course were the minority, but she was one. She cared for my father with great tact, understanding and good humour and she often smoothed over prickly moments between him and me.
When I was commissioned from Sandhurst and posted to India there seemed no purpose for my father to keep on "Commons" with the heavy expenses entailed. So he sold the house to the Ursuline nuns and there was a sale – which I tearfully attended – of nearly all the beautiful antique contents which my mother had collected. This was a pragmatic thing to do in the circumstances, but for him – even more than for me – it was a sad event.
"Stillwaters" never became a Roman Catholic, but he was determined that I should live up to the tenets of the Faith which my mother had so wisely instilled in me. He kept a little book in which he had entered the dates of various holy days and practices which required my reverences. This became unnecessary. Aside for those phases when it is fashionable to question beliefs, and practice becomes a little inconvenient, I found by experience that this was an area more than others which stood the test of time. Financial cosiness, occupational stability, physical health, even friends and parents, could disappear overnight, but faith was constant and always available. Of course there was much the good monks at school taught me which remained unexplained and mysterious. But this I thought to be perfectly reasonable; after all, why was I put on trial in this world if all the questions had a clearcut explanation – rather like sitting an exam with all the answers before me. I believed that Goëthe had got it about right when he said that the greatest happiness of the thinking man was to fathom all that was fathomable – and humbly to reverence what was not. I was grateful I had been brought up with religious authority; being only of mediocre intellect, to have been left to "discover" for myself, in a plural society, with no buoys to steer by would have brought the reefs too close for comfort.
Sadly, my father and Kitty never planted any roots after "Commons" was sold and for ten years they traveled, six months abroad and six in England, occasionally writing vitriolic letters to The Times. He was by then suffering from pernicious anaemia and the search for winter sunshine became compelling. I suspect, too, that his became a handy weapon in a life-long confrontation with HM Inspector of Taxes, whom he delighted to tease. He died, at the age of 76, in London during an air raid and was buried at Gunnersbury. Beatriz, alas, was in Washington and I in India.
"Stillwaters", like his father, was a Victorian, a generation which in my day of permissive and liberal societies, I have heard criticized as being straightlaced and hypocritical. It is sometimes suggested that, unlike the open living of the modern day, the Victorian was just as naughty but tried to conceal his indiscretions beneath a veil of virtue. Well, I am not all that sure they did. If and when they did, I believe it was because they recognized wrong – they may frequently have lost the way, but hey did not lose the map – which I think, is one reason of the malaise in the age I write.
When I was about to leave school, my father wished to leave some momento to Downside where my mother had spent happy hours, particularly at the services in the Abbey Church. Moreover, the reason for Downside being my school and that of my sons, was due very much to the friendship and high regard for Dom Stephen Rawlinson which my father experienced during World War I when this tall and striking Benedictine monk was Senior Chapain at HQ Vth Army. He therefore proposed to the Downside Community the endowment of a small scholarship in memory of my mother. In their reply, the Headmaster said that such a scholarship risked bringing a boy to a school where he might find amenities in contrast to what he could reasonably hope to enjoy at home. The Community, therefore, advised a very small endowment to enable a boy, already at school, to take some appropriate extra subject, and that the rest should go towards the building of part of a sports pavilion for the benefit of all boys, the other half of which was being donated by an Australian benefactor, Sir Mark Sheldon. To this my father agreed and the pavilion stands today, named according to his wishes:
"Second Eleven and Coets Pavilion
The gift of Major W.H. Gleadell
To the Memory of Mrs. Katherine Gleadell, 1930."