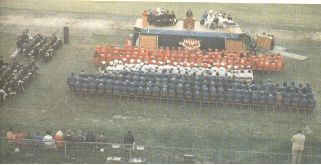 Last updated May 19, 2011 with 170 located members from the class of 1978.

Links to bios of Erwin graduates other than the class of 1978 appear on the guestbook page, which was last updated on February 19, 2007.
The message forwarding system no longer works. If you click on the link to email the person and in turn submit the form, you will get an error message. If you wish to contact one of the members, first check to see if they are also on Facebook. If not, contact me and I will in turn let the person know that you wish to contact them.


A
Allison Abbot
David Adams
Lynda Alloway
Joy Armstrong Barber
Steven Ashley
Donnie Auer
Debbie Austin


B

John Bagby
Beverly Baker
Vicki Ballew Coley
Sammy Barnett
Shirley Barnett Gant
Kathy Beam
Paul Bechtel
Sally Bell Stites
Sally Bell Stites
Susan Bennett
Beth Bentley
Cheryl Berg
Robin Berg
Scott Bishop
James Bolin
Vicki Blackwood Crowe
John Bond
Nancy Bostick Isbell
Donna Bridgeman Fox
Lisa Brewer
Charlotte Bresnan Poe
Chris Bridges Lucas
Cindy Brightwell
Sonjia Brock
Vicki Brown Klug
Glenn Bryan
Chris Bryant
Matt Bryant
Teresa Burchfield Denney
Kandy Burford Shaneyfelt
Jeff Burell
Lisa Busby Seltzer
Sandra Busby




Kim Jett
Tim Jett
Glenn Johns>
Liz Johnson Neumann
Paula Johnson
Tammie Johnson
Deanna Jolly Pate
Byron Jones
David Jones
George Jones
Pam Jones
Steve Jones


Robert Kirby
Kim Kirchner
Melinda Klinner


Tammy Thackerson
Rhona Thomas
Rhona Thomas Baginski
Mark Thompson
Tammy Thornhill
George Thornton
Sandee Thurman
Sharon Tidwell
Suzanne Tinney Couch
Todd Tralango
Diane Tucker Riccio
Mark Tuggle